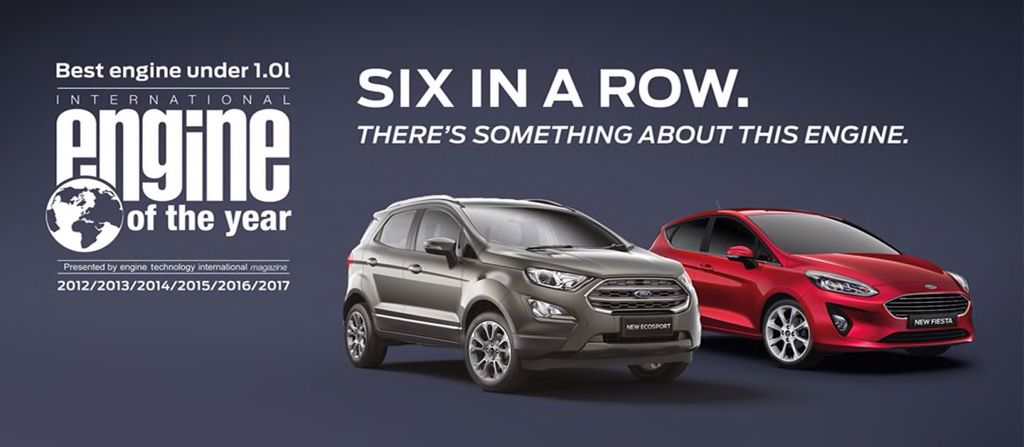 EcoBoost Technology
Fuel efficiency with a boost
The award-winning EcoBoost® is Ford's most technologically advanced engine ever. Delivering superb fuel efficiency when compared to its larger conventional counterparts - with outstanding performance, it truly offers the best of both worlds.
The 1.0-Litre EcoBoost® wins again

Six years in a row the EcoBoost® 1.0-litre engine has won the International Engine of the Year award for the best engine under 1.0-litre. Continuing to dominate its segment, the judges praised the engine;s combination of performance, fuel-efficiency and technology. This award-winning engine is available in the FIESTA, ECOSPORT and FOCUS.
Introducing Ford's award-winning EcoBoost® technology
"Ford's award-winning EcoBoost® technology is designed to increase economy and reduce CO2 emissions by about 20%*, without compromising the joy of driving your vehicle."
---
Mustang EcoBoost®
The Mustang EcoBoost® model features the twin-scroll turbocharged 2.3L EcoBoost® engine, delivering thrilling power and torque with superb economy.
---
Ecosport EcoBoost®
We have a winner! More of what you need, less of what you don't. This 1.0L award winning engine delivers 92kW power and 170Nm torque, delivering excellent fuel economy and responsive power.
---
Fiesta EcoBoost®
This turbocharged 1.0L EcoBoost® engine packs a punch with 92kW of power and 170Nm of torque! Now you can get excellent fuel economy without compromising your driving quality.
---
[1] *The declared fuel consumption and CO2 emissions figures were achieved during technical laboratory testing in accordance with the legislated technical specifications (SANS 20101: 2006/ ECE R101: 2005 as last amended) and validated and approved by the UK Vehicle Certification Authority (VCA). Fuel consumption and CO2 emissions figures are used to compare different vehicle types under uniform conditions, and are not necessarily indicative of real-life driving conditions. Note that the actual fuel consumption and emissions levels will depend on many factors and are directly affected by the length of the journey; number of passengers and the amount of luggage carried; individual driving style; road conditions; weather conditions; vehicle age, mileage, condition and standard of maintenance; use of vehicle features such as air conditioning; and any modifications to the vehicle. Your fuel economy will vary based on these and other factors and, for these reasons, many drivers may not achieve the EU fuel economy figures in day-to-day driving, although the vehicle is technically capable of doing so.
[2] **The information contained in this website is an overview intended for awareness purposes only. Visuals may show specifications, accessories and options not available in South Africa. Left-hand drive models may be shown for illustrations purposes only.