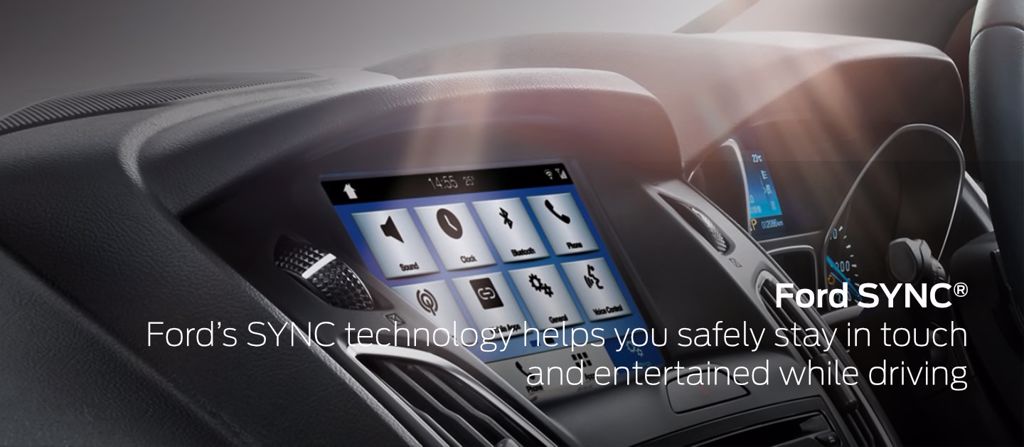 Ford SYNC 3
Discover more about the three versions of the platform below
SYNC®

1
SYNC® lets you use your voice to make calls, listen to music, select apps with Ford AppLink™ and much more. SYNC® technology also helps you keep your eyes on the road and your hands on the wheel.
SYNC® 2

1
With SYNC® 2, you can enjoy many great hands-free, voice-activated SYNC® features, plus enhanced capabilities. An intelligently organised screen featuring four quadrants helps keep you connected on the go.
SYNC® 3

1
SYNC® 3 lets you enjoy all of the great SYNC® features, plus our next generation of voice-activated technology. New easy-to-use design. New interface. New features. Discover how SYNC® 3 delivers next-level connectivity to your busy life.
Hands-free Phone Calls

2
With a simple push of a button and a voice command, you can make a call through your vehicle's speakers. Once the phone is paired, you can automatically download the names and numbers programmed in your compatible phone.
Hands-free Music and Entertainment

2,3
Listen to music, audiobooks or podcasts from just about any media device, any way you like – hands-free. Search, select, play specific titles, change your mind. Plug in your USB or MP3 player or stream via Bluetooth® 4 Audio.
Full-feature Navigation
With pinch-to-zoom and swipe gestures, plus the familiar one-box-search we know from internet search engines, SYNC®3 with Navigation provides customers with a navigation 5 experience very similar to smart phone offerings.
Ford AppLink ™

6
SYNC®

Control some of your favourite compatible apps on your supported smartphone using simple voice commands and radio buttons on your steering wheel. Find your saved stations, skip a song or play a different track.

SYNC®2

SYNC®3

Via Ford AppLink™, launch and voice control some of your favourite mobile apps or access them in the organised apps section, which automatically loads SYNC®-enabled apps from your paired and connected smartphone.
SYNC®3 plus Apple® CarPlay™

7,8
SYNC®

SYNC®2

SYNC®3

SYNC®3 brings the power of Apple® CarPlay™ to your Ford. Use Siri® to interact with your iPhone®. Make calls, listen to voicemail. You can also access your songs and playlists. Apple Maps provides turn-by-turn directions, traffic conditions and estimated travel time.
SYNC®3 Android Auto™®

9
SYNC®

SYNC®2

SYNC®3

SYNC®3 brings the power of Android Auto™ to your Ford. Talk to Google™ to interact with your smartphone. Make calls and listen to voicemail. You can also access your favourite music through your apps. Google Maps™ provides voice guided navigation, live traffic information and estimated travel time.
Automatic Updates over Wi-Fi®
SYNC®

SYNC®2

SYNC®3

Keeping SYNC®3 current with the latest software can happen automatically as new updates become available. All you need is a Wi-Fi connection.
Siri® Eyes-Free
SYNC®

SYNC®2

SYNC®3

SYNC®3 brings the power of Siri® Eyes- Free and your iPhone into your vehicle. Make or receive a call, reserve a table at your favourite restaurant, audibly send a "see you there" text and more.
Listen to Text Messages 2,3
SYNC® can read your text messages through your vehicle's speakers. Your eyes never have to leave the road. SYNC® even understands emoticons and popular abbreviations. If you're parked and want to quickly send a reply, just choose from a list of pre-set text responses.
Climate Control
SYNC®

SYNC®2

If equipped, you can use your voice to adjust the climate. So you can stay comfortable without having to lift a finger.

SYNC®3

If equipped, you can use your voice to set your preferred temperature or easy access the colour touchscreen to adjust the temperature with large, easy-to-use touch buttons.
Download the latest SYNC® Software Update
Download the latest SYNC® Software update using a USB storage drive.
Please ensure that you have your vehicle's VIN number at hand, follow and complete all the necessary steps and register the installation to complete your update.
[1] Not all SYNC® features in this list are available on all vehicles; please contact your local dealer for details.
[2] Not all features are available with all mobile phones.
[3] Local laws may prohibit the use of this feature while driving. Check your local road rules. Please check phone compatibility with your local dealer to ensure your mobile phone is enabled with this feature.
[4] Bluetooth® is a registered trademark of Bluetooth® SIG Inc. and is used under licence. Apple iPhone users with the iPhone 7 & 7 Plus may need to visit their nearest iStore should they encounter any issues with connecting to SYNC via Bluetooth.
[5] Available as an option on the Ford Focus (Trend series) & Ford Kuga and standard on the Ford Ranger (XLT & Wildtrak) and Ford Everest (XLT and Limited).
[6] Ford AppLink® is only available on select models and compatible with selected smartphone platforms. PANDORA, the PANDORA logo, and the Pandora trade dress are trademarks or registered trademarks of Pandora Media, Inc.
[7] Requires phone to be connected via a separate USB connection cable, sold separately.
[8] Apple CarPlay is a trademark of Apple inc. Apple CarPlay requires phone with compatible version of Apple iOS, active data service, and connection cable (sold separately). SYNC does not control Apple CarPlay while in use. Apple is solely responsible for their functionality. Message and data rates may apply Pod, iPhone, Siri and Apple CarPlay are trademarks of Apple Inc.
[9] Android Auto requires phone with compatible version of Android Auto and active data service. Android Auto and Google Maps are trademarks of Google Inc. Immediate Android Auto functionality pending Google Inc. Licensing approval for MEA region.
[10] Voice Controlled Climate control not available on Ford Focus or Ford Kuga.