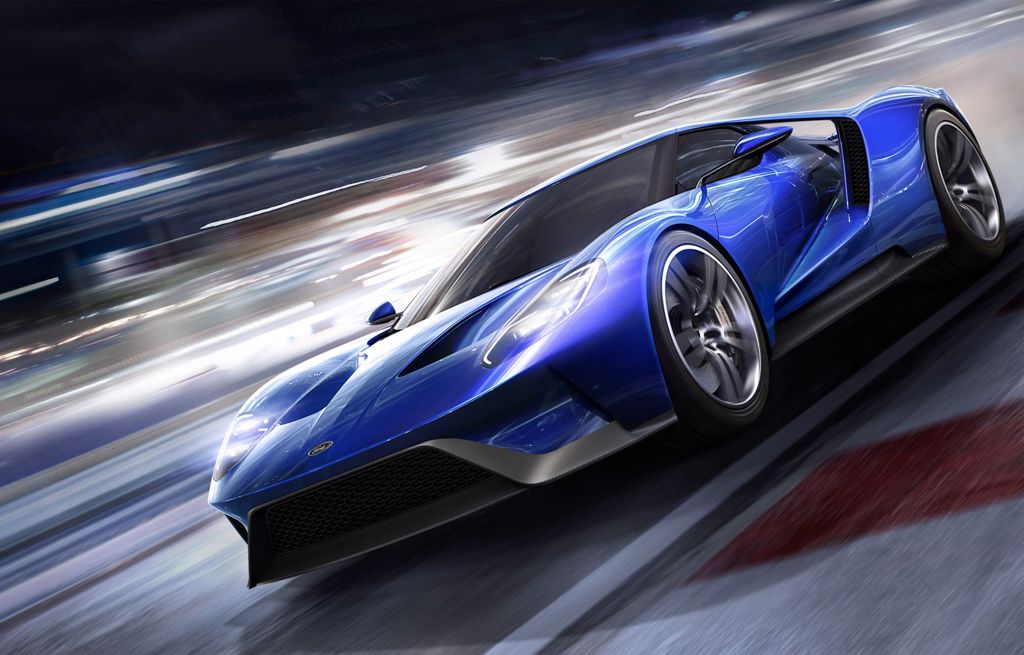 Ford Flag in the Gaming World
Game On! Fly the Ford Flag in the Gaming World While Your Real Wheels Take a Break from the Tarmac
Some iconic Ford vehicles have appeared in numerous games, from PC to PlayStation, and Wii to Xbox.
Ford invites gaming enthusiasts to test drive these games while their real wheels stay parked.
If all this game play doesn't quite hit the mark, Ford invites budding car enthusiasts to test drive their automotive design with Fordzilla hub.
PRETORIA, South Africa, 20 May 2020 – Missing your driving? You don't have to be. You can still get the Ford engine rumbling and its revs racing, albeit virtually, with the best games to keep the household buzzing. Not only can scheduled game time add structure to a day and break the monotony of crucial "Stay Home" directives, it can promote family time and friendly competition.

Ford vehicles have appeared in innumerable games, from PC to PlayStation, and Wii to Xbox, with all sorts of gadgets and gizmos to get the best out of your time on track, or tearing up the town from behind the wheel.

Forza Motorsport 7 (Windows, Xbox) – 2017
Ahead of the return of the Forza franchise this year, why not break out one of the most successful motor racing video games of recent times; Forza Motorsport 7. There are more than 700 vehicles in this Windows and Xbox One platform-friendly single or multiplayer award-winning game, but are any more exciting than the Ford #2 GT40 Mk II from the 1966 Le Mans? The classic 7.0-litre GT has been available on most preceding versions of Forza, with Forza 4 featuring an opportunity to unlock the Legendary Battle achievement when you beat a Ferrari 330 P4 in any race while driving a Ford GT Mark II. An added bonus in the latest version lets you tear through a fictional street circuit in Dubai.

Gran Turismo Sport (PlayStation) – 2017
The 13th game in the Gran Turismo series sees 334 cars battle for the sole attention of your controller thumbs, as you tackle 82 track configurations. From Ford Focus rally cars, STs, and Mustang GTs, you're spoiled for choice. But it's hard not to find your way into a Ford V8-powered Shelby Cobra, or the spectacular mid-engine two-seater 2017 Ford GT. With two game modes – Sports and Arcade – there's a Nations Cup, Manufacturers Cup, both with "live" online event components, and a Campaign Mode, where you can take your Ford through driving school, mission challenges, and circuit experience, so you're well prepared to take the championship title from your closest family rival.

Blur (Windows, PlayStation, Xbox) – 2010
With box art featuring a Ford GT, the Blue Oval features heavily in one of the best arcade racing video fame created for the Windows, PlayStation 3, and Xbox 360 platforms; Blur. Offering more than a standard racing experience, you can switch up your Mustang for an off-road adventure in the Bronco, F-100, or F-150 Raptor. That's not to say you can't screech through online multiplayer modes in a Ford Shelby GT500, Ford GT, or Ford Focus RS. But if you want a unique thrill, you have to reach "Fan Status 14" in career mode, or "Rank 40" in multiplayer, to unlock the Ford Transit Supervan3. Equipped with a high-revving V8 engine, this is a Transit that's seriously quick, and serious fun, both in the game and in real life.

Need for Speed (PlayStation, Xbox, Windows, Wii, iOS, Android) – Since 1994
It's hard to pick which Need for Speed game to play, but it's nice to have so many options. Starting with the one that requires the least amount of effort, Need for Speed: No Limits (2015) is free, features a Ford Mustang GT as its cover image, and all you need to play it is your phone, with the game app enjoying a heavy focus on street racing, and police avoidance. If you want to move a bit more, you might lean toward 2012's Need for Speed: Most Wanted, which boasts a Nintendo Wii U version, replete with limited-edition track-orientated Ford Mustang Boss 302. But perhaps the best instalment of the, arguably, most successful video game franchise of all time, is Need for Speed: Rivals (2013). Straddling platforms between Xbox 360 and Xbox One, as well as PlayStation 3 to 4, and Windows XP, Vista, 7 and 8, NFS: Rivals hit all its marks, even getting Ford friend Ken Block on board as racing advisor, and making his racing livery available on the game's Ford Mustang GT. If you feel like a break from the game, you can always take a two-hour sabbatical from the hot seat to watch a movie. Our suggestion? Need for Speed.

Dirt Rally 2.0 (Windows, PlayStation, Xbox) – 2019
Colin McRae wasn't only a spectacular rally driver, he also proved an astute businessman, having his name tacked to a racing game that has found a home on Game Boy, Windows, PlayStation, N-Gage, Linux, Xbox, Wii, and in mobile format. Having provided extensive technical advice during development, McRae's name was the obvious selling point of Colin McRae Rally when launched in 1998, and remained in place on each instalment until a few years after his death, when the game became known simply as Dirt 3 (2011). McRae spent three years racing for Ford, and players can choose any of the Fords the Scotsman took the wheel of. In fact, you can pick World RallyCross Supercars, as well as historic rally cars from the 1960s through the 1980s. With 12 Fords to take control of, including the Ford Escort Mk II, RS Evolution, Escort RS Cosworth, Fiestas, Focuses, and a Mustang, for fans of rallying and rallycross, there's probably no better racing simulator out there.

Bonus Game Play
Though not necessarily the star, some Ford vehicles are so iconic, they make it into more video games than almost any other vehicle, such as the Ford Crown Victoria. Often a taxi cab or cop car, the Crown Victoria has appeared in at least 179 different games to date, including The Walking Dead, Call of Duty, Tony Hawk's Underground, and of course, Need for Speed. A handsome handful of those games (86 in total) also feature the Ford E-Series ambulance, though not so much as a drivable unit.

If all this game play doesn't quite hit the mark, Ford is giving serious gamers the opportunity to have a hand in creating the ultimate virtual racing car. Having last year launched its first ever esports team, Fordzilla, Ford will build on its real-world racing experience and complete at the very highest level of gaming. Designed fresh from the ground up, Team Fordzilla – P1 will be Ford's first virtual race car not to be based on an existing real-world model, and will see an auto manufacturer and the online racing community come together in a completely new way. Work on the project started last month, and can be followed on @TeamFordzilla Twitter and Instagram channels. (Source, Quickpic)
Dealer News