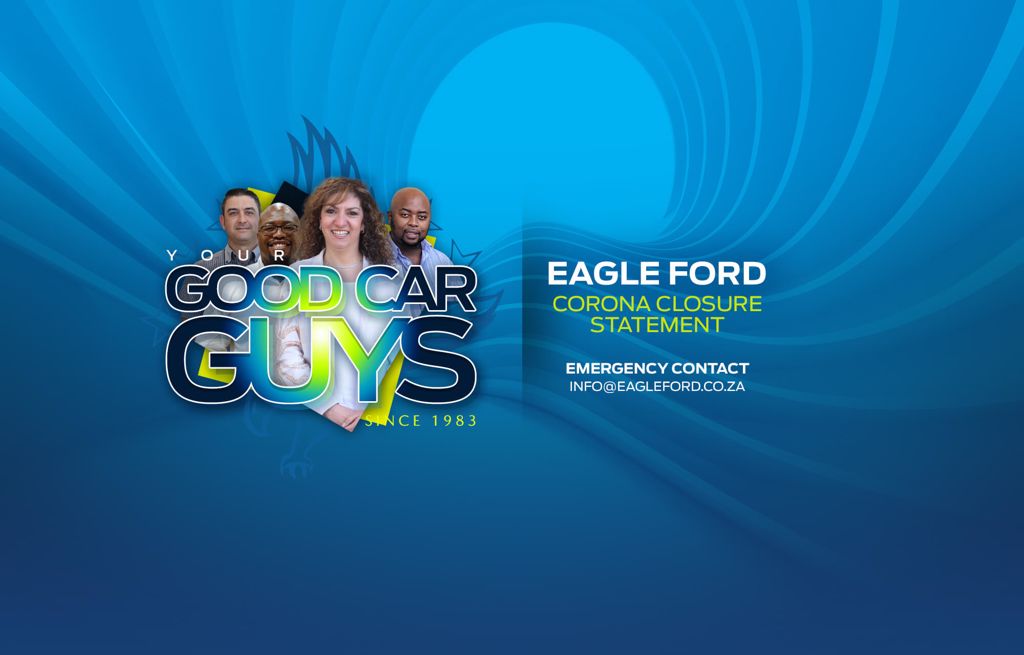 COVID-19 Customer Announcement
In line with the recent announcement by President Cyril Ramaphosa regarding the full nationwide lock down commencing 24h00 Thursday 26 March, Eagle Corner will be taking the following measures:
Eagle Corner consisting of Eagle Ford, Eagle Mazda, Eagle Mahindra, Nearly New, Parts, Service, Eagle Prep Centre and Eagle Fin will be closed.
Service and Parts is open for essential service only.
Non-essential services will only be allowed 2000kms over and above the current 1500kms grace mileage that we provide on all service plans
Eagle Customers who for example, have long term service vehicles in our workshop or Prep Centre, and wish to collect their vehicle (should they be in driveable and roadworthy condition), may collect their vehicle by no later than 17h30 Wednesday 25 March.
As of this moment Eagle Corner is not aware of any Member or employee who has tested positive for COVID-19.
Throughout this closure period Eagle Corner will continue to keep customers informed via our various communication channels including social media.
We encourage all individuals to join our social media channels to stay up to date with Eagle Corner:
Kindly note that the administration and accounts departments will be closed. However, should you need to contact Eagle Corner for emergency purposes after 17h30 Wednesday 25 March, kindly do so using the details below:
Emergency Contacts:
Ford roadside assistance 0860 011 022
Vehicles towed by the AA will be sent to the AA depo for storage while SA is on lockdown. Your vehicle will then be towed to the closest Ford dealer as soon as possible.
Vehicle Installment Holidays
Finance through a finance house or bank
Should you need to discuss a payment holiday for your vehicle, please contact customer services division of your finance house directly. Should you require further assistance, you can contact us at [email protected]
Finance through EagleFin
Kindly download this document and contact Wesbank directly or you can email [email protected] OR [email protected]
Finance through Ford Credit
Kindly download this document or you can email [email protected]
Stay healthy
Regards
Eagle Corner
Dealer News