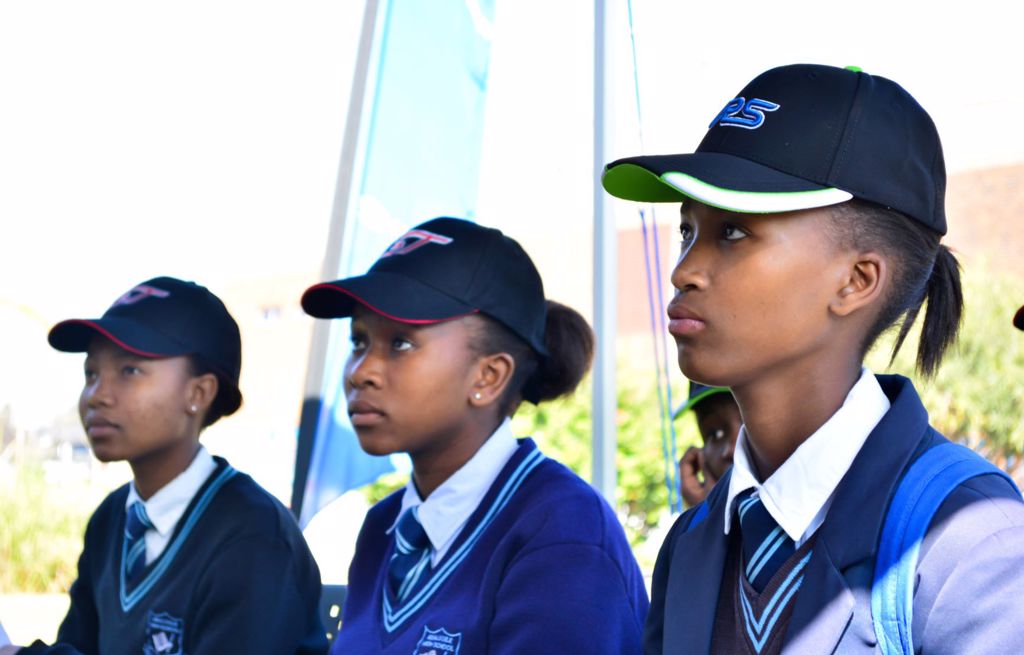 Celebrating Women and Girls
Ford Celebrates Women and Girls with a Passion for STEM
Almost two-thirds of children entering primary school today will have jobs that don't yet exist
International Day of Women and Girls in Science aims to challenge gender stereotypes and biases about women in STEM (Science, Technology, Engineering, Mathematics)
Ford Motor Company highlights awareness and education initiatives to bridge STEM gender divide in traditionally male-dominated industry
PRETORIA, South Africa, 11 February 2020 – As we enter the fourth industrial revolution, jobs of the future will be driven by technology and innovation, and recent studies suggest that 65 per cent of children entering primary school today will have jobs that don't yet exist.
The United Nations has declared 11 February as International Day of Women and Girls in Science. It is intended to both challenge gender stereotypes and biases about women in STEM (Science, Technology, Engineering, Mathematics), and give those women who are leading the charge in STEM a platform to shine, and light the way for others who have a similar dream.
Ford committed to bridging STEM gender divide
Ford Motor Company is fully committed to the principle and practice of equal opportunities in all aspects of employment, and is actively working towards bridging the STEM gender divide in what is traditionally considered a male-dominated industry.
It's an ongoing process, with Ford South Africa targeting its STEM awareness and education efforts at three critical areas: secondary education, tertiary education, and the workplace.
Careers Day for learners
Every year, Ford SA hosts a Careers Day for around 80 Grade 11 and 12 learners, from various schools and different socioeconomic backgrounds, at its inland vehicle assembly plant in Silverton, Pretoria.
Representatives from all Ford departments expose the learners to the many career options that are available in the automotive industry, where each department fits into the business, and what kind of qualifications and skills are needed for various roles. The aim of this is to help the learners identify where their main interests lie, so that they can make an informed decision about the direction they would like to pursue as they embark on their tertiary studies.
The learners are also given a Plant Tour and Ford Driving Skills for Life (DSFL) course, and go home enlightened and inspired, with a much clearer understanding of the possibilities that their futures hold.
Enactus Challenge for students
Ford Fund, the philanthropic arm of Ford Motor Company, is one of the top three corporate and organisational partners of Enactus, an international non-profit organisation whose aim is to engage and support the next generation of entrepreneurial, values-driven social innovators.
Grants to the value of more than $1-million are awarded each year by Ford Fund to teams of university students who have been selected to participate in the annual Enactus challenge, where they are required to implement real-world projects that tackle complex social and environmental issues in local communities.
The winning Enactus team from South Africa is invited to attend the Enactus World Cup, where national winning teams from almost 40 countries are able to benchmark their work against their peers and exchange innovative ideas, as they compete for the global championship title.
At the Enactus World Cup in 2019, which was held in Silicon Valley, the teams whose Enactus projects received financial support from Ford Fund were invited on a tour of Ford's Greenfield Labs in Palo Alto. The facility is one the largest automotive manufacturer research centres in the region, currently home to around 300 researchers, engineers, designers, and scientists.
Being exposed first-hand to truly ground-breaking advances in and real-world use of STEM research, gleaning insights on the logistics of getting sustainable, scalable operations off the ground, and then bringing this wealth of knowledge back home for practical application in a South African context, has the potential to unlock significant social, environmental, and financial opportunities for the country.
Professional Women's Network for women in the automotive manufacturing industry
Through an initiative called the Professional Women's Network (PWN), Ford recognises the achievements of women in STEM, fosters an environment for cultural change to enable personal and professional growth, and encourages the next generation of scientists, engineers, and technologists. Guest speakers are invited to share their stories with female Ford employees, and employees are in turn encouraged to network between departments, and share their own stories.
At Ford SA's coastal engine assembly plant in Struandale, Port Elizabeth, electronics technician Nosisa Nkwali is passionate about sharing her story, with both colleagues and members of her community.
A self-assured, solution-driven individual, she says it was clear from an early age that she was destined for a future in STEM. As a curious young girl, she could often be found quietly taking apart domestic appliances and household gadgets to see their insides and figure out how they worked.
"As a kid, I used to love fixing broken things at home, like kettles or irons, and opening up cell phones and remote controls, checking to see how they operate," she laughs. "At school I excelled in Maths and Science, and I knew I wanted a career that incorporated both of my favourite subjects."
After matriculating, she went on to obtain her National Diploma in Electrical Engineering from Nelson Mandela University in Port Elizabeth. And in 2012, she joined Ford, where she now gets to exercise the muscles of her sharply analytical mind every day.
"To start with, it can be challenging to be one of only a few females in a predominantly male working environment," she admits. "But as time goes on, you get used to the challenge. You just have to work extra hard to prove yourself, and eventually you become part of the team."
"There's no such thing as an average day in manufacturing," she continues. "Some days are much busier than others. It really all depends on how the machines are behaving!" The machines she is referring to are part of a very busy assembly line which produces a staggering 250,000 engines and 280,000 component sets per year, for both the domestic and export market. But she relishes a challenge, and absolutely thrives under the pressure of troubleshooting urgent electrical and electronic problems to ensure minimal interruption and maximum efficiency on the line.
Her advice to other young women and girls who are considering following a similar study and career path: "If you have a passion for Maths and Science, if you have the right attitude and confidence in yourself, if you are prepared to motivate yourself and practice patience when the going gets tough, and if you are prepared to work really hard and be a team player, you will succeed. Never allow anyone to tell you that you will not make it in this field because you are a woman. You are the author of your life story."
(Source, Quickpic)
Dealer News