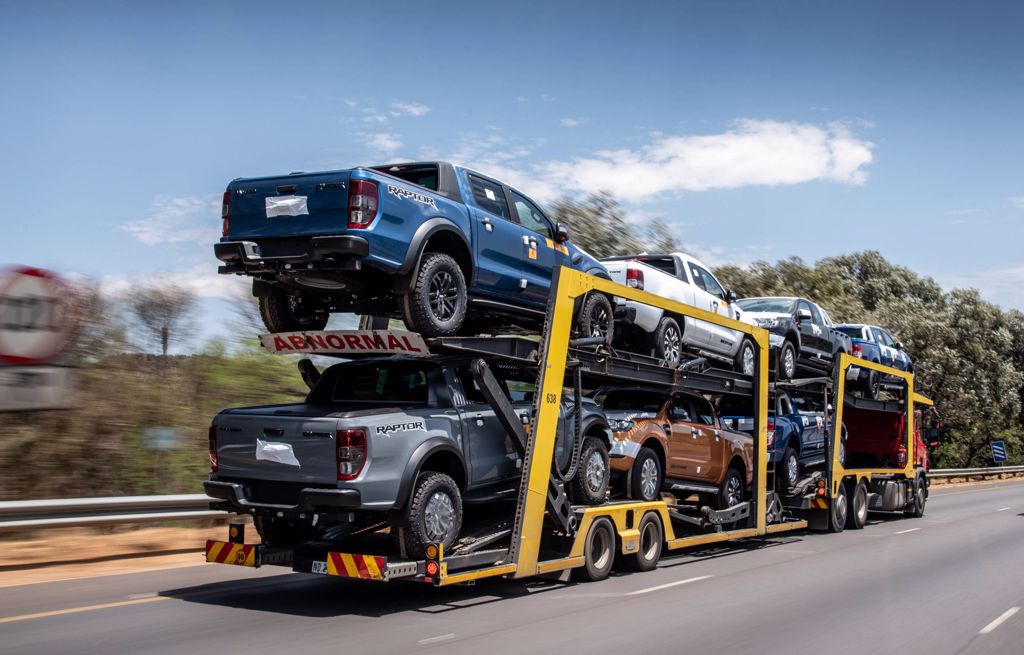 Journey of a Ranger: Plant to Port in 11 Hours
The locally-built Ford Ranger is the top-selling pickup in Europe, and South Africa's top-ranking light commercial vehicle export
Ford South Africa exports locally-built Rangers to more than 100 left-hand drive and right-hand drive markets around the world
Ford makes use of road, rail, and sea to get its vehicles to market globally
PRETORIA, South Africa, 13 November 2019 - At 05:30 in the morning a veteran Motorvia driver, Samukelo Mthethwa, is preparing to hit the road. He has just spent around three hours loading and securing seven brand new Ranger pickups onto the trailer that is attached to his truck.
Mthethwa is responsible for not only driving the truck but also for the loading and unloading of the cargo. The hydraulic ramps are used to maximise the available space, by allowing one vehicle to be under another. Mthethwa's 10 years of experience allowed him to have his routine don to a fine art.
These seven Rangers are destined for export to the UK. The 640 km journey to Durban Harbour will take him around 11 hours, with compulsory stops on the way. Once he has unloaded all seven pickups into a secure parking lot in the harbour precinct, he'll be able to call it a day.
The delivery to one of Ford's 140 dealerships across South Africa, Swaziland, Namibia and Botswana is more complicated. Dealers order specific vehicles from the plant, and these are loaded in reverse order based on the planned delivery schedule, which includes each dealership en route to the truck's final destination.
Much of Mthethwa's trip will be along the N3 highway, which is one of the country's most important economic arteries. He will have to make a compulsory stop at the Heidelberg Traffic Control Centre, where all south-bound trucks are checked for overloading and roadworthiness before getting further down the route. Van Reenen's Pass is the most notorious and dangerous section of the N3. The long, steep descent is harsh on braking systems, and according to N3 Toll Concession, the company responsible for managing this section of the highway, wind can reach speeds of 141 km/h up the pass and start blowing trucks over at 126 km/h, and snow can render it impassable.
Throughout the trip, the truck will be tracked by GPS, by the dispatchers central monitoring office. In the event on a hijacking a control centre will immediately activate a response team for recovery.
"Around 720 vehicles leave our plant every day, about 80 per cent of which are destined for export," says Ockert Berry, VP Operations, Ford Middle East and Africa. "While domestic vehicle sales are still an essential component of our business, we have strategically mapped our revenue pipeline to target exports and drive export-oriented growth."
More than 100 left- and right-hand markets are getting the vehicles delivered to by Ford. The locally-built Ranger is the top-selling pickup in Europe, and South Africa's top-ranking light commercial vehicle export.
The unprecedented demand for the Ranger, and an increase in production capacity on the back of a recent R3-billion investment, Ford, together with Transnet, evaluated how a multi-port strategy could benefit both parties by improving the use of current assets and reducing costs, as well as addressing the ongoing congestion in Durban Harbour, by utilising other ports.
"Up until the first quarter of 2019, all incoming and outbound Ford vehicles were shipped through Durban Harbour," says Berry. "It has South Africa's largest Roll-on Roll-off terminal and is the best equipped in the Southern Hemisphere. However, it has become increasingly congested, and so, in April, we broadened our outbound logistics portfolio by adopting a multi-port strategy to support increased export volumes. We are now also shipping Rangers to markets in Europe twice a month from Port Elizabeth Harbour."
On a monthly basis, Ford charters a total of 15 to 20 incoming and outbound vessels. These dedicated car carriers, also known as Ro-Ro ships, have built-in ramps which allow vehicles to be easily driven on and off. Vehicles are driven directly into the ship via an internal ramp system to multi-level decks, where they are securely lashed to the floor so they can't budge an inch during their long ocean voyage.
Traditionally, the automakers from the Port Elizabeth region, would transfer their vehicles to Gauteng by rail, which would then return back to Port Elizabeth empty. Ford had now engineered backhauls, so that that export Rangers can be transported from Gauteng to Port Elizabeth whilst on the return. This will improve efficiency and reduces delivery times. This practical and cost effective solution will allow large numbers to be moved via specially designed rail cars called auto tracks.
"The cost of vehicle transport logistics, including pressure from rising fuel prices, is substantial enough to warrant constant attention and innovation," says Berry. "We are continuously looking at ways to increase efficiency and drive costs down, to mitigate whatever happens in the economy and the supply base."
It's now 05:45 and Mthethwa climbs into the driver's seat, honks the horn – a sound he's loved since he was a little boy – and hits the gas, pointing the nose of his 18-wheeler to the main gate, towards the asphalt ribbon beyond. He takes a last swig of coffee, selects a favourite playlist, and looks forward to filling his lungs with balmy sea air when he reaches his destination.
Dealer News