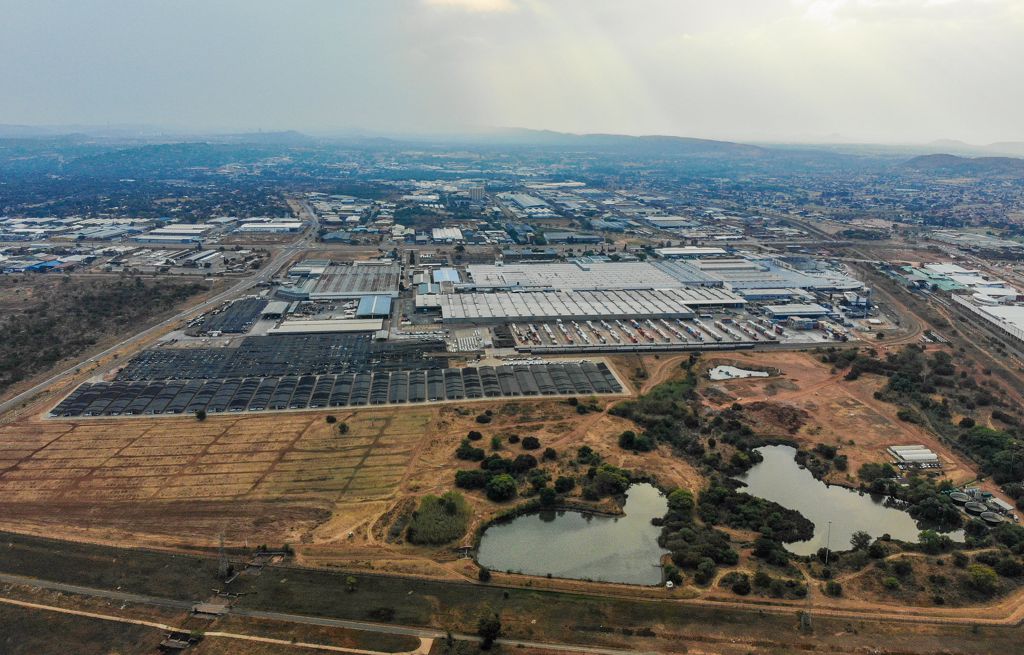 Tshwane Automotive SEZ - 5 Nov 19
Ford Motor Company Partners with Government to Launch Tshwane Automotive Special Economic Zone in Pretoria
Tshwane Automotive Special Economic Zone (SEZ) officially launched by South African President, Cyril Ramaphosa
As an automotive supplier industrial park, the SEZ will play a significant role in bolstering investment and job creation in the local economy
First phase launched on 81 ha of land adjacent to Ford Silverton Assembly Plant, with nine suppliers expressing keen interest, which will create approximately 7 000 jobs. Once complete, the SEZ will span 162 ha and contribute to an estimated 70 000 jobs in the total value chain
Tshwane Automotive SEZ will be instrumental in enabling Ford's future expansion opportunities, while improving production efficiencies
Pretoria, South Africa, 5 November 2019 –Ford Motor Company of Southern Africa has partnered up with National, Provincial and Local Government for the creation of the Tshwane Automotive Special Economic Zone (SEZ). Thswane Automotive SEZ is the automotive component supplier industrial park, playing a significant role in further investment and job creation for the local economy. It will be enabling future expansion opportunities for Ford's local operations.
"The launch of the Tshwane Automotive SEZ is a milestone achievement following five years of engagement between Ford Motor Company and government, specifically the Department of Trade and Industry," says Neale Hill, MD of Ford Motor Company of Southern Africa. "It is an exceptionally proud moment for Ford to have partnered with South African government in the creation and development of the Tshwane Automotive SEZ, as an enabler for economic development for the Gauteng Province, City of Tshwane and the surrounding communities."
"This exciting new project testifies to Ford's ongoing commitment to South Africa as one of the country's largest original equipment vehicle manufacturers, as well as that of key supplier companies that are essential cogs in the wheel as we drive towards creating a brighter and more prosperous future. It is only by government, industry and communities working hand-in-hand that we can create these opportunities and fulfil our true potential."
There will be several phased for the launch of the Tshwane Automotive SEZ, with construction already underway for the initial 81 ha phase. This will be followed by a 162 ha span of land, currently owned by the City of Tshwane.
"We currently have nine Ford supplier companies that have expressed keen interest in investing in the Tshwane Automotive SEZ, which will create approximately 7 000 jobs in the initial phase," explains Ockert Berry, VP of Operations, Ford Middle East and Africa. "Having these suppliers located adjacent to the Silverton Assembly Plant is a crucial step towards increasing the efficiency of our local operations, and unleashing further potential increases in production capacity for the domestic and export markets."
The Ranger, the country's top light commercial vehicles (LCV), is currently being exported by the FMCSA. The Everest SUV is also assembled locally for South African Customers and exported to market in Sub-Saharan Africa.
Over the past decade, Ford's ongoing investment in its local operations, which amounts to more than R11-billion between 2009 and 2018, saw production capacities increase from around 25 000 vehicles to 110 000 per annum. The most recent investment of approximately R3-billion in 2016 enabled the Silverton plant to further expand its production capacity, and it is currently capable of producing up to 168 000 vehicles per annum, or 720 vehicles per day – with around two-thirds of these vehicles destined for export markets, predominantly in Europe and the UK.
Over 1 percent of South Africa's GDP has been contributed by Ford's domestic turnover. This make the Silverton-based company a significant player in the manufacturing sector and the country's economy, as well as contributors to South Africa's employment.
Additionally, the Struandale Engine Plant is capable of producing up to 130 000 fully assembled 2.2 and 3.2-litre Duratorq TDCi engines, which are supplied to the Silverton vehicle plant for installation in the Ranger and Everest. Engines are also exported to North America, China and several customer plants in Europe.
The Port Elizabeth plant machines component sets, compromising the cylinder block, head and crankshaft for the existing 2.2. and 3.2 Duratorq TDCi engines, along with the assembly operation. Following the recent investment and expansion, installed capacity climbed to its highest-ever figure of 280 000 sets per year to support export markets in Thailand and Argentina, as well as local engine assembly.(Source, quickpic)
Dealer News