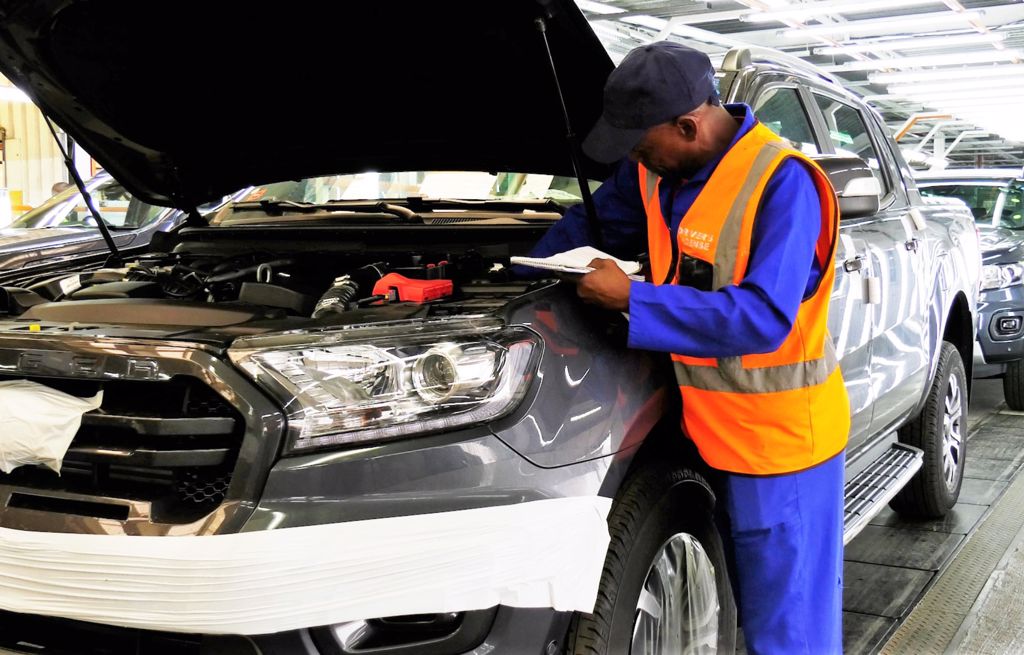 Employee Development and Growth Remain Key Drivers for Ford with Expansion of Local Manufacturing Facilities
Ford celebrates its loyal workforce on International Workers Day on 1 May
Investment in expansion, upgrades and modernisation of Ford's Silverton Assembly Plant will create 1 200 additional jobs
Communities to benefit as employment opportunities are created within the supplier network and value chain, with approximately 10 000 new jobs to be added
Ford's partnership with government in the Tshwane Automotive Special Economic Zone has helped create over 8 700 jobs during construction phase, and an estimated 2 100 jobs for operations. High-capacity rail freight corridor project expected to create thousands more
PRETORIA, South Africa, 30 April 2021 – When Ford Motor Company announced an investment of R15.8-billion in its South African manufacturing operations in February this year, it marked the biggest investment in the company's 97-year history in this country. Hailed as one of the largest investments in the local automotive industry ever, it also set in motion the creation of thousands of new jobs – an important milestone worthy of celebration on International Workers Day on 1 May, particularly in a country heavily impacted by a struggling economy and high levels of unemployment.
With a direct investment of R10.3-billion in the Silverton Assembly Plant in Pretoria, Ford will generate revenues exceeding 1.1 percent of South Africa's gross domestic product. Furthermore, the expansion in manufacturing capacity to 200 000 vehicles per annum will be achieved with the construction of a new body shop, new high-tech stamping plant and a new chassis line. At the centre of this expansion and increased manufacturing capacity will be the creation of 1 200 incremental Ford jobs at South Africa, increasing its total workforce to 5 500 employees – each of which plays a crucial role in the company's success.
"Ford has always acknowledged the key role that its workforce plays in the success of the company, an ethos that was instilled by Henry Ford and carries through to our current manufacturing operations," says Ockert Berry, vice president for Operations at Ford South Africa.
Bill Ford, the current Ford Motor Company chairman and great-grandson of Henry, famously said that the purpose of any company should be to make people's lives better. "We take this philosophy to heart at Ford South Africa, both in terms of our current employees, and our approach towards creating new job opportunities at the company, within the value chain and in the communities in which we operate," Berry says.
"The fact that a large portion of the workforce at our Silverton Assembly Plant and Struandale Engine Plant have a long track record with Ford proves that we are doing something right. It shows how we are very much a Ford family that has grown the business together, with each one of our dedicated staff helping us to become a global leader for Ranger production and exports, and one of the biggest manufacturers in the country," Berry states.
"On this International Workers Day, we acknowledge the key role that our workforce plays in driving growth and prosperity for our business, and in the broader economy. We salute their loyalty and commitment, not only to the company, but to South Africa as a whole."
To promote further development of its employees, Ford is currently building a new training centre at the Silverton Assembly Plant to ensure that its team is equipped with the knowledge and skills required to maximise the efficiencies of the new, modernised facilities for the production of the next-generation Ford Ranger, starting in 2022. "Our continued investment in training is an important part of our commitment to creating opportunities for personal growth and career development across all facets of our business," Berry adds.
In addition to the new jobs created at Ford itself, the company's local supplier network will benefit from the investment of R5.5-billion in tooling to support the expanded production. This will create an estimated 10 000 new jobs, taking the total number of jobs Ford supports in the total value chain to over 60 000.
"Supporting our suppliers with new tooling will ensure that they too modernise in order to deliver world-class quality. It also provides their workers the opportunity to upskill and utilise the world's latest manufacturing technologies, and compete with the best in the world," Berry continues.
Many of these suppliers will be located on the Tshwane Automotive Special Economic Zone (TASEZ), located adjacent to the Silverton plant. Ford is represented on the board of the TASEZ along with national, provincial and local government. This project is creating over 8 700 jobs during the construction of the first phase of the Special Economic Zone, with an estimated 2 100 incremental permanent jobs for operations.
Ford is also working closely with all three spheres of government and relevant state-owned entities in developing the Gauteng Province – Eastern Cape Province High Capacity Rail Freight Corridor. This will be a full-service line linking the Silverton Assembly Plant and the TASEZ with Gqeberha (Port Elizabeth), which is home to Ford's Struandale Engine Plant and the Coega Special Economic Zone. Channelling all of Ford's inbound and outbound logistics exclusively through Gqeberha to support the higher production volumes is projected to create thousands of additional jobs within the value chain.(Source, Quickpic)
Dealer News